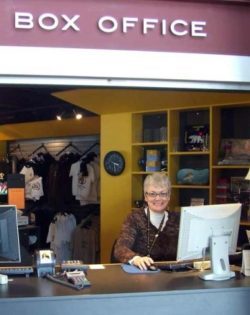 Our Box Office staff are always happy to answer your calls and questions and book seats for you at our performances. During busy times, for example when a new show goes on sale, we cannot always keep up with the phone calls as they come in. Please do leave us a message, and our Box Office staff will call you back as soon as possible.
Please note that the Stockey Centre and Bobby Orr Hall of Fame will be closed on Friday April 19, resuming regular winter business hours on Saturday April 20, 2019.
Summer Hours
May 18 2019 to October 12 2019
(Victoria Day to Thanksgiving)
Monday to Sunday
10am to 6pm

Winter Hours
October 12 2019 to May 16 2020
(Thanksgiving to Victoria Day)
Monday to Saturday
10am to 4pm

To purchase your tickets online click here.
Please note that we are a fragrance-free facility. This is for the comfort of everyone visiting our facility. Please refrain from using scented perfumes, sprays, and colognes as well as strongly scented hair, body, and deodorant products when visiting our facility.  We greatly appreciate your cooperation and understanding.
Please see below for our FAQs:
Privacy Policy
When you book with us we will ask for your name, address, credit card details and telephone number. This allows us to fulfill your ticket request and track your order and contact you regarding your booking.
If you have joined our free e-mail newsletter service we only use this information to send you e-mails that may be of interest you. You can unsubscribe from this service at any time by contacting the Box Office.
Terms and Conditions for Charles W. Stockey Centre for the Performing Arts Ticketing
Payment handling is provided to customers by the Box Office staff of the Charles W. Stockey Centre for the Performing Arts, whose registered office is at Two Bay Street, Parry Sound, ON, P2A 1S3.
All sales are final. We do NOT offer refunds or exchanges on any regular priced, or season tickets.
We accept American Express, Cash, Debit, Mastercard, and Visa.
'STOCKEY CTR ORR HALL FAME' will appear on your bank/credit card statement.